Could you imagine a comedy skit about your mother being beaten? Most people wouldn't find that funny but Russell Simmons did. So much so that he took the mother of Black liberation in America, Harriet Tubman, and chose to portray her as a fat Aunt Jemaima who records herself having sex with her slavemaster. Most people would call this a sick joke but Simmons saw it as a funny one. When he saw that not even the NAACP was laughing he issued a non-apologetic apology on his website where he lauds himself as being a "liberal person with thick skin". So he's saying everyone who didn't find humor in his depicting Harriet Tubman as having sex with the man who beat her daily, even as a child, as "thin skinned" people. So we're all just "overly sensitive" while he and those who can laugh at slavery the way he does are the truly enlightened among us. I can only imagine what he'd do if that had been his own great great grandmother. Possibly sell tickets on HBO?
There's so much wrong with a personality who claims to represent contemporary Black thought in music today, particularly of young Black people, and yet he has such seething hatred of Black people that he would try to desecrate one of our icons in a manner that would make any Klansman envious. And in case anyone thought his "sex tape" skit was just a fluke and not part of larger pattern of behavior, just this morning Simmons took to Twitter to declare he had gone to see the latest buckdancing movie, The Butler, from the king of self hating Black directors, Lee Daniels. He proudly announced he has seen the movie, not once, but twice.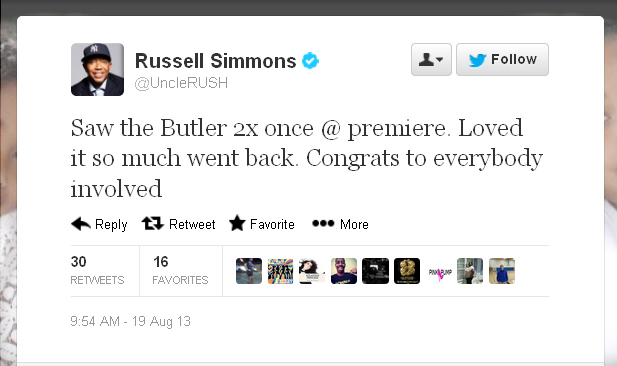 He's making it clear he is against Black people having self respect and he is here to lead the charge to take us back to Jim Crow. I'm sure his white handlers whom he's trying to impress with his attack on Black people are proud of their minion being so dedicated. I guess this is the return on their investment; your soul.
No word yet if Simmons next skit will be about Ann Frank having sex with Nazis and sending the footage to her friends to giggle over or the mirthful hijinks on the concentration camps. But we'll keep you posted.